Minecraft is a game which you play on pc or x box , but you must have java.The game includes multiplayer and single player
here is a picture of the front page , but you need a username from mojang , so here is a link to the website http://minecraft.net/ , but you must buy it or play for free from the internet , but you aren't allowed to play multiplayer.
But if you play single player you can make these items , but only these , but overall you need to make a craftingtable and this is how to make one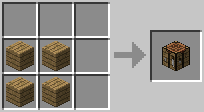 , but here are more just check this web http://www.minecraft-crafting.net/.
But the game is a place where you can live or build any thing you want.